Parking At The Royal Oxford Hotel
If you're driving to Oxford to stay with us but don't want to leave your car at a park and ride, or spend a small fortune at a pay and display carpark, don't worry! Our customers can use the carpark at Office Outlet, just next door to our city centre hotel.
Parking must be arranged prior to your stay. Please call reception on +44 (0)1865 248432 to book a space for just £10 a night.
---
Car parking options
---
Office Outlet Car Park
Parking at Office Outlet next door to the hotel can be arranged in advance at a cost of £10.00. Customers can park there from 2pm until 12pm the following day. Please note the car park is closed overnight. Spaces are limited. Please call the hotel for more information.
---
Seacourt Park and Ride
On Botley Road (OX2 0HP) costs £4.00 per 24 hours and cars can be left overnight.
If travelling to Oxford on the A34, Seacourt Park and Ride is at the top of Botley Road, 1.1 miles from the hotel on the left hand side just before the Volvo Garage.
Once you have parked, take the Park and Ride bus which stops in front of the hotel in Frideswide Square.
Buses run every 10-15 minutes, however, you can take any bus number 4 (a, b, c), S1 or U1 from Botley Road - these buses run every 5 minutes.
The bus ride to the hotel will take 5 minutes. Should you wish to walk, it will take 15 minutes.
Seacourt Park and Ride is a convenient and secure car park, managed by Oxford City Council and is protected by CCTV cameras and security staff.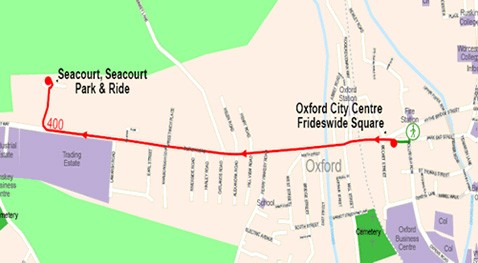 ---
Pay and Display Worcester Car Park
Located at the end of Park End St (1 min walk).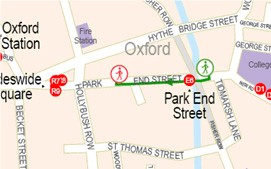 Car Parking Times
---
Sunday-Friday (NOT SATURDAYS) 8am-8pm
0 to 1 hour: £4.00; 1 to 2 hours: £6.00; 2 to 3 hours: £8.00; 3 to 4 hours: £10.00; 4 to 6 hours: £15.00; 6 to 8 hours: £23.50; 8 to 24 hours: £28.00; After 8 pm: £4.00
---
Saturday Only 8am - 8pm
0 to 1 hour: £4.50; 1 to 2 hours: £7.30; 2 to 3 hours: £10.00; 3 to 4 hours: £12.50; 4 to 6 hours: £19.00; 6 to 8 hours: £30.00; 8 to 24 hours: £35.00; After 8pm: £4.50
---
Overnight charges
The overnight charge starts at 8pm, however if a customer arrives at 7pm we would only require payment up until 8pm, the ticket machine will then transfer automatically into the evening tariff.
The customer does not need to pay the evening free in addition to the daytime tariff.
The overnight charge ends at 8am.
Maximum stay: 5 days.
Extendable: Allows only TWO session extensions.
Session valid from the next day when parked after 8pm.
---
If you have any further queries about car parking options please call the hotel directly on 0044 (0)1865 248432 or 0044 (0)1865 248432 or email info@royaloxfordhotel.co.uk.